At first glance, very few folks looked like me. Yet, the truth is, they were ALL me.
The She Speaks conference is a tool to equip women to masterfully care for and fertilize the garden of their calling in the areas of leadership, writing and speaking. Whether watering seeds in others' hearts or reviving their growth, our ability to do so will flourish because of what She Speaks sowed in us. And this "she" heard loud and clear that her first garden is the one at home.
If I'm honest, I arrived at She Speaks without a plan. Yes, I prepared extensively. But I had no plan. I didn't plan how I would regroup, process, and execute during the conference and after. In all my preparation, I missed out on asking God about His intentions for me in that space. Alas, I guess I did have a plan. My plan. Not His plan.
Looking back, I believe God's hand was evident in going to She Speaks. And like much more of my calling than I am comfortable admitting, I walked through the door determined to give it MY all. In general, my process goes: prayer (me), instruction/marching orders (Him), then MARCH (me). My discovery this weekend is that I'm missing a few steps. God desires to march along beside me rather than watch me navigate my way through His plans and instructions.
I'm the person who prays, 'Father, thank You for going before me, making the crooked places straight so that I may bear fruit for Your glory.' However, often my life calls for, 'Father, thank You for always being with me, allowing me to abide in You and You in me so that when I bear fruit the glory is Yours.' I'm embarrassed to say, I've been content working "for" Him, rather than resting IN Him, where my work and my worship can become one.
As I listened to an underlying theme of the 'greater work' being our relationship with Him and our families, a weight of truth crushed my normal response. Normally, my striving-self would reply, 'Easy for you to say; you've experienced the fulfillment of your call in some areas and you know what it feels like.' The Holy Spirit squashed that response, allowing me to hear regret between syllables and recall how I feel about any regret that shows up in my testimony. For once, I heard how success matters less if you regret the process that got you there.
During moments of pause throughout the weekend, His message to me centered on partnering with Him for my call. Where my training said to listen to instructions, go do your work and then bring it for evaluation; He said to stick closer to the Instructor. Though it's requiring me to root up old mindsets, I am grateful for the process.
Surely the seeds that spring up during this next season shall evidence a "new thing."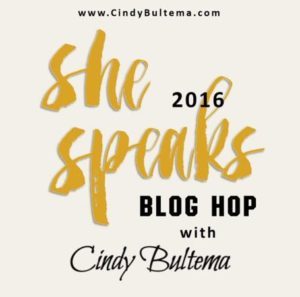 Find the link to all the other She Speaks '16 Blog Hoppers below!
Powered by Linky Tools
Click here to enter your link and view this Linky Tools list…