THIS is the book you've been waiting for!

Not sure WHY new effort keeps bringing the same results?
It may be a SOUL issue. Read Soul Training and get new results!
~
When we go through tough circumstances, navigating the rigorous process of forgiveness and healing from emotional wounds is only the first step. Next, we must address any negative behaviors we developed. By adopting new behaviors we can bring about a healthier lifestyle and fresh approach to our relationships. That's the work of transitioning our souls 'from healed to whole.'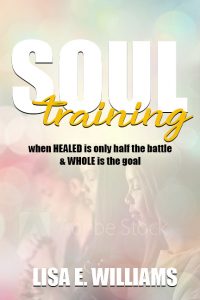 "Your book helped me realize that I'm not alone. I saw myself in most of the pages. Chapter 7 spoke directly to me about trusting God."
— A. Relford
"As I got into the book I found there was a message for me. I cried in some sections that reflected what I'm going through now. Thank you for the encouragement and the book."  
— T. Wilcher
Click ADD TO CART below to purchase a SIGNED copy of Soul Training and have it shipped directly to you. Or, visit Amazon for a paperback (not autographed) copy or Kindle version.
(For autographed copies, be sure to add your email and mailing addresses when you order.)
Questions? E-mail us: info@lifewithlisae.com.